Kali Linux bootable USB - A Hacker's swiss army knife
Hello Duthcode readers, i am back again with an article/tutorial about the most important hacker weapon! The Kali Linux Bootable USB!
~Definition time~ | A Bootable USB is a simple USB from which a computer can load and run an operating system or utility program!
Which means that, by the end of this article tutorial you will be holding a USB able to run KALI LINUX to almost any computer!
Why does a hacker need a bootable Kali USB?
Kali Linux can be a powerful operating system when it falls to the hands of a skillful penetration tester as it contains multiple tools that can make his work easier.If you don't know what i am talking about, you probably need to read this article first --> Introduction to Kali Linux. Imagine always having the ability to hop onto a Kali Distro on any computer around you! Compelling, isn't it?
But don't get discouraged if you are just entering the world of penetration testing! A bootable Kali USB is also pretty suitable for a beginner Hacker! You see, when you are a beginner and it's the first time that you play around with Linux Distributions, you are, almost certainly, going to break some configurations inside the operating system. But when you are a noob you don't have to care, because if you break stuff you can just unplug the USB and plug it in again. Everything starts from zero.
Everything starts from zero...
This is a very important note that you should really take into consideration before you load Kali from a USB. Every single file that you create, every single configuration you make will be deleted for good once your session is closed (Turn off the computer i mean). A cool and a quick fingerprint wiper may i add, but you still need to be cautious anyway. There is a way to save files locally to your USB, and this is by loading Kali using the Persistence Mode option that the starting Kali menu gives you.
Preparation Time
Firstly we need to get our software and hardware together. Let's do this!
We need to download our Kali Linux ISO image! Kali Linux ISO . Always download your Kali ISOs from the Official Page, they are official and free (killer combination).
Go find a USB that is equal to or larger than 8Gb. Don't have one? Here is an affiliate link of the one i am using. Kingston 16GB USB ,pretty cool looking USB too! All your friends will be totally jelly.
Finally the core software that blends the two above items together is called Rufus. Rufus is a utility that helps format and create bootable USB flash drives, such as USB keys/pendrives, memory sticks, etc. You can find a lot of Rufus like software out there, but i keep using it because it works... So Download Rufus. I'll walk you through the process in a bit.
This is an extra, but you may need it! Sometimes the wireless card of a pc doesn't get recognized by the Kali Linux distribution, it's a drivers thing. Therefore you won't be able of Wireless Connection! That sucks!
In order to have my mind at ease i always have an external wi-fi adapter somewhere in my bag and since we are trying to load Kali it would be cool if that wireless adapter also had the capability to inject or sniff packets that fly around in a network! My personal choice is TP-LINK TL-WN722N 150 High Gain Mbps Wireless Adapter
Create the Bootable USB with Rufus
I promised to Walk you through the process, so here we go :
Step 1 | Download and open Rufus
When you open the Rufus page that was given above you will have to search a bit for the correct download Link. So here is an image to clear things out for you.

Step 2 | Load Kali ISO and run Rufus
When Rufus is successfully downloaded you just double click it. No installation is needed. This Box will appear :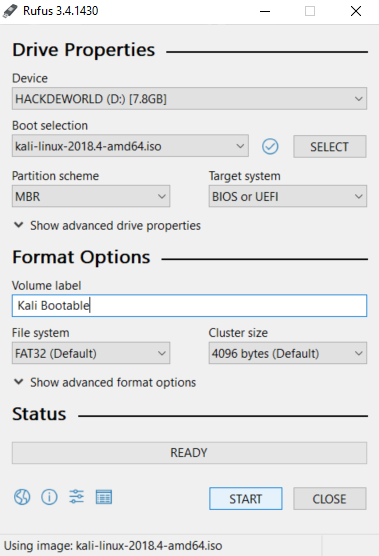 Details :
Device : In this selection you should see your USB device's name. Plug it In and make sure you have selected the correct one because Rufus will format it before making it bootable.
Boot Selection : Click the SELECT button on the right and select the Kali Linux ISO you downloaded.
Volume Label : Change this to whatever name you want, it's the name your USB will have from now on.
STATUS : Wait for status to be READY, some Updating may be needed so wait for it to Update until it's ready.
START: This Starts the process, so before clicking it MAKE SURE EVERYTHING IS AS YOU WANT.
All the other labels will be set automatically!
Step 3 | START Rufus
When you click the start button you may have to give permission for some files to be downloaded. Do it. Then a Warning will pop-up notifying you that your USB will be formatted completely, click OK and Let Rufus load and do its thing.
When the loading finishes just click the CLOSE button and you are all good to go. Your Bootable Kali USB is ready!
Running, Booting instructions
Ok your USB is ready! But... how do you use it?
Step 1 | Shut Down Your PC
If you want to run the operating system inside your USB you must open your PC's Boot Menu. Mine comes up when you spam click the F12 button as soon as you turn your PC on. Here is a sloppy picture of it as i can not use print screen :)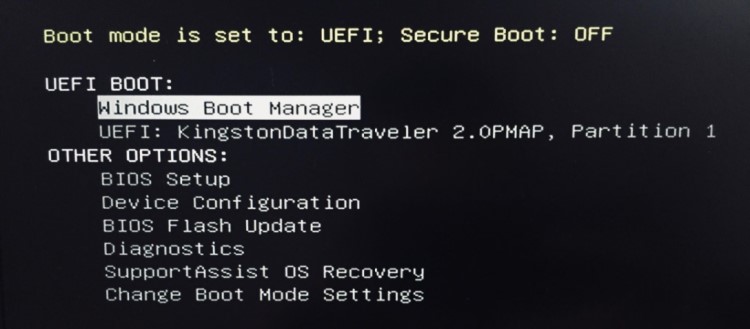 In this boot menu you choose from where you pc will boot, obviously. Since we want to boot from the USB we choose the option that displays the name of our USB.
As you see mine is KingstonDataTraveler 2.0.
Step 2 | Getting in Kali
If you followed this tutorial step by step you should be looking at a screen not so different from this one :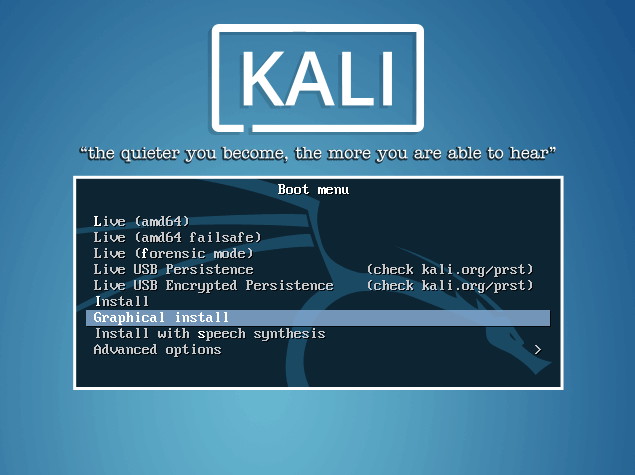 From all of the above option we want the first one.
Step 3 | Handling Error - A start job is running for live-config
In my machine Dell XPS an error occurs when clicking the Live (amd64 option).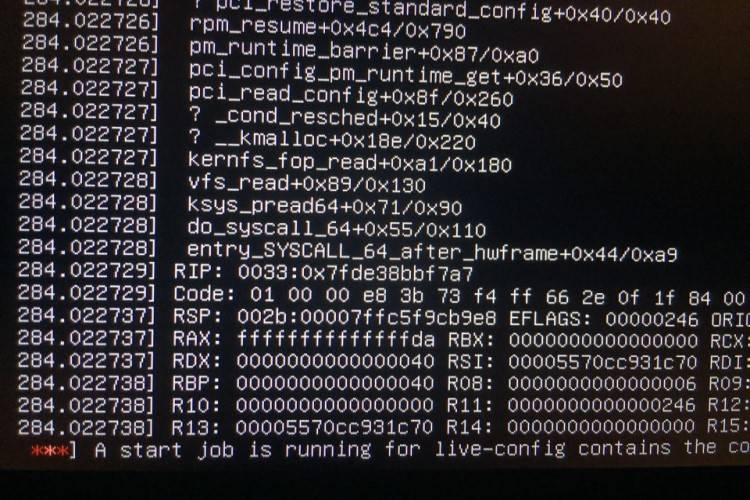 It always stucks at ***] A start job is running for live-config ...From a quick error search i did, it seems like the error occurs because of a intel-nvidia driver misconfiguration. Hopefully i have a fix for that.
Plug your USB in while you have your main OS running. It will appear as Run Debian GNU/Linux
Navigate to boot\grub and open with a text editor the file "grub.cfg". Note : I apologize for the shitty image resolution.

I use Visual Studio Code as a code editor, press ctrl-f and search for the word "splash".
Go to the Splash under the #Live boot option.
And replace it with nouveau.modeset=0, don't ask, i don't know why. It works.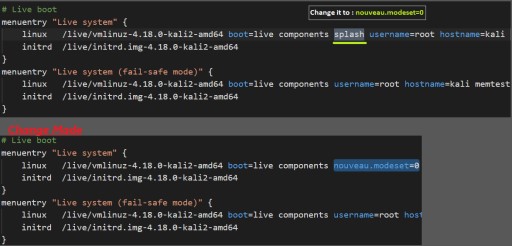 Step 4 | Try getting in Kali again
This time everything ran smoothly!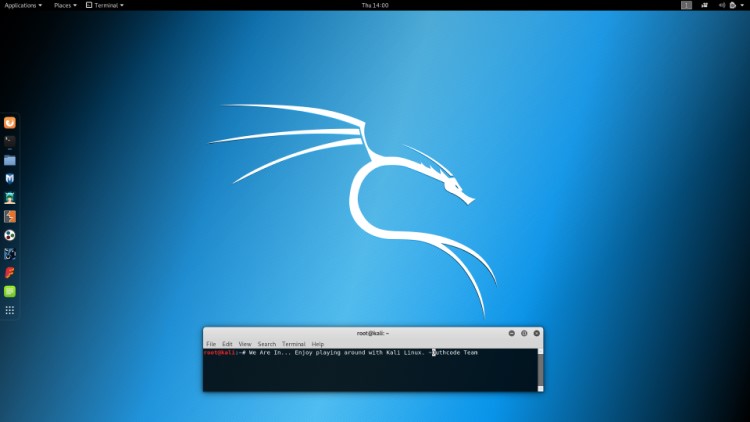 Note : It failed reading my wireless card but my Tp-Link Wireless Adapter worked perfectly!
---
That was it! Thank you for reading! Here are some other Articles you might like:
You can show your support by liking our Facebook Page ! Support our efforts on Ko-Fi ! And you can get in contact with us either by sending us a message on Facebook or via the e-mail on the footer of the Page!
Thanks again! Have a lovely day... Or night!